Useful Chemistry Resources

Periodic table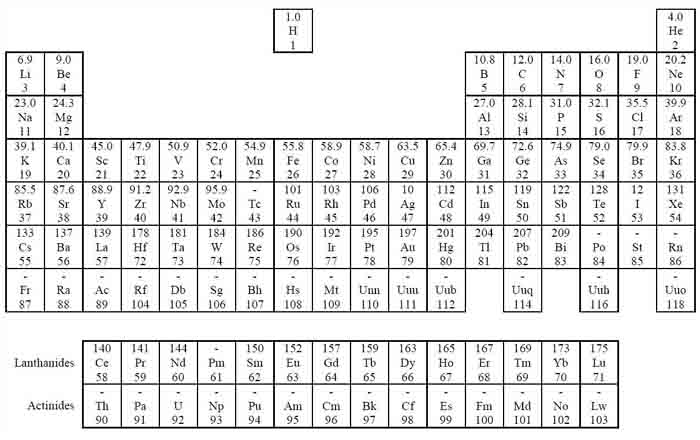 S Block – Group 1, 2
When bonding these elements lose electrons to reach the stability of the nearest noble gas structure and therefore form positive ions also known as cations e.g Sodium 11Na (2,8,1) loses its outer electron to become Na+ (2,8).
P Block – Group 3
When bonding these elements also lose electrons to become positive ions e.g. Al becomes Al3+
P Block – Group 5, 6, 7
When bonding these elements gain electrons to form the nearest noble gas structure and therefore become negative ions or anions e.g. Chlorine 17Cl (2,8,7) gains an outer electron to become Cl-(2,8,8).
D Block – Transition metals
In general these form metallic bonds.

Common Ions and molecules you must know:
Examples:
Group 1 – Positive ions
Li+ Na+
Group 2 – 2 Positive ions
Be2+ Mg2+
Group 3 – 3 Positive ions
Al3+
Group 6 – 2 Negative ions
O2- S2-
Group 7 – Negative ions
F- Cl-

Ions that cannot be predicted easily from their position in the periodic table
These are ions of common elements that you must learn.
Silver
Ag+
Copper
Cu2+
Iron (II)
Fe2+
Iron (III)
Fe3+
Hydrogen
H+
Lead
Pb2+
Zinc
Zn2+
Hydroxide
OH-

Common molecules that you must know:
Ethanol
C2H5OH
Hydrogen Peroxide
H2O2
Hydrogen Sulphide
H2S
Nitric Acid
HNO3
Sulphuric Acid
H2SO4
Hydrochloric Acid
HCl

Basic Chemical equations:
Metal + Acid

Salt + Hydrogen
Mg (s) + 2HCl (ag)

MgCl2 (aq) + H2 (g)
Metal Carbonate + Acid

Salt + Carbon Dioxide + Water
Na2CO3 (aq) + H2SO4 (aq)

Na2SO4 (aq) + CO2 (g) + H2O (l)
Acid + Alkali

Salt + Water
HCl (aq) + NaOH (aq)

NaCl (aq) + H2O (l)
Element + Element

Compound
2Na (s) + Cl2 (g)

2NaCl (s)

A balanced equation – Stochiometry (Element measure)
Example:
H2 + O2

H2O
2 oxygen atoms on the left hand side : only 1 on the right
H2 + O2

2H2O
2 hydrogen atoms on the left : 4 on the right
Balanced: 2H2 + O2

2H2O
4 hydrogen atoms and 2 oxygen atoms: 4 hydrogen atoms and 2 oxygen atoms

Room Temperature 25 °C

298 K
0 °C

273 K
Room Pressure 100 kPa or 1 atm

Common definitions
Atom
Smallest unit of matter, which cannot be broken down into anything simpler chemically.
Molecule
A group of atoms joined together by covalent bonds.
Atomic Number
The number of protons in an element, which is equal to the number of electrons in a neutral atom.
Mass Number
The total number of protons and neutrons in an atom.
Ion
A charged atom that has lost or gained electrons giving it a positive or negative charge.
Element
A substance that contains only one type of atom.
Compound
A substance formed by the chemical combination of elements.
Chemical symbol
Letters used to represent an element.
Molecular formula
Shows the total number of atoms of each element present in a molecule.
Anion
Negative ion, moves to the anode.
Cation
Positive ion, moves to the cathode.
Salt
An ionic compound.
Precipitate
An insoluble solid formed when two solutions mix.
Common Equations
Solubility rules
When dealing with a precipitate reaction (a reaction between two solutions which forms an aqueous solution and a solid compound) you will often be required to write state symbols. Therefore, you should know basic solubility rules so you are aware which compounds are aqueous in water.
Compounds Solubility in water
Group 1 Compounds All soluble
Ammonium Compounds All soluble
Nitrates All soluble
Group 7 compounds (Halides) All soluble except silver and lead halides
Sulphates All soluble except lead and barium sulphate
Carbonates All insoluble except group 1 and ammonium
Hydroxides All insoluble except group 1 and ammonium
Oxides All insoluble (Caution! Group 1 oxides react with water)