Halogenalkanes (Haloalkanes)

Halogen alkanes are named by adding the prefix chloro/bromo instead of methyl. E.g.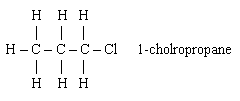 Similar to alcohols halogenalkanes can also be primary, secondary or tertiary, depended on the position of the C-Cl bond.


C-Cl Bond Polarity

The C-Cl bond is polar because there is a large difference in electronegativity, which results in the Cl atom having a higher 'concentration' of electrons and results in a permanent dipole.

Because of this polarity, halogenalkanes can undergo neucleophilic substitution reactions. A reaction mechanism that is similar to electrophilic addition for alkanes.
Neucleophilic Substitution
Heterolytic Fission
Unequal breaking of a covalent bond resulting in a positive and negative ion.
Nucleophile
An electron pair donor

1. Hydrolysis with alkali
Conditions: Heat, water solvent
Overall Reaction
CH3CH2Br + NaOH

CH3CH2OH + NaBr
Again this reaction actually occurs in a series of steps
1. H–O- Na+

Na+ + H–O-
2.



3. Na+ + Br-

NaBr

Step 1
The NaOH is actually ionic Na+OH- and there are also OH- ions in the water (the NaOH is aqueous in water for this reaction) the OH- is referred to as a nucleophile – An electron pair donor
Step 2
The OH ion is attracted to the Cd+ and forms a dative covalent bond with it. The C-Br bond undergoes heterolytic fission to result in CH3CH2OH and Br-.
Step 3
The Na+ and Br- react to form NaBr

2. Hydrolysis with water
Conditions: mixed with ethanol to force the hydrated and hydrophobic layers to mix.
CH3CH2Cl + H2O

CH3CH2OH + HCl
CH3CH2Br + H2O

CH3CH2OH + HBr
CH3CH2I + H2O

CH3CH2OH + HI
There are different rates of hydrolysis dependent on which halogen alkane reacts. Iodine has the quickest rate of hydrolysis because it has a lower bond enthalpy, due to its larger atom and lower electronegativity. Therefore this acts as proof that the C-I bond is a weaker covalent bond.
You can test the rate of hydrolysis by using silver nitrate:
Ag+(aq) + Cl-

AgCl(s) White precipitate
Ag+(aq) + Br-

AgBr(s) Cream precipitate
Ag+(aq) + I-

AgI(s) Yellow precipitate
The yellow precipitate will form first, then the cream one and then finally the white precipitate.

3. Reaction with excess ammonia
Conditions: ethanol solvent
CH3CH2Br + 2NH3

CH3CH2NH2 + NH4Br
Forms an amine, in this case ethylamine.

4. Elimination Reaction
Conditions: ethanol solvent, heat
CH3CH2Br + NaOH

CH2=CH2 + NaBr + H2O
Forms an alkene.
Recap - Reactions that produce halogenalkanes
Alkanes
Free radical substitution – Cl2 in the presence of UV light
Alkene
Electrophilic addition – HCl or Cl2 via Refulx
Alcohol
Substitution – HBr made in situ.